A Partnership That Puts Your Needs First
At SECU Financial Partners, our consultants' approach to financial planning and investment management is both collaborative and consultative. Get empowered to take control of your financial wellbeing, but stay assured that we're looking out for you and handling all the details.
We are your personal guide. We respect what's important to you. And you can trust that our guidance is tailored to your unique financial situation, and is 100% in service of your goals.
We have a complete open architecture and no proprietary products. You'll have access to comprehensive solutions for your specific needs.
Life-Centric Financial Planning
Financial management is a long-term journey that affects every aspect of life for decades. Talk to us about our life-centric planning model. It's a roadmap of the areas we recommend focusing on for each life stage: starting with financial accumulation and continuing through retirement and legacy planning.
However it's never too late (or early) to start financial planning, so don't worry if your timeline looks different.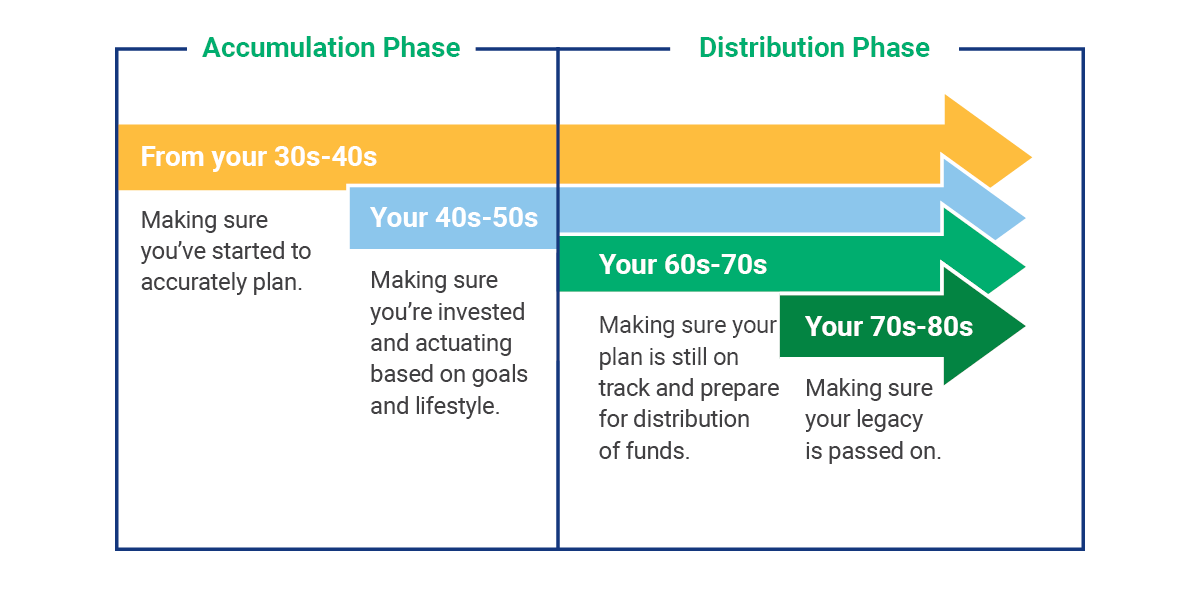 What to Expect Throughout Your Journey
Personal finance can be complex and overwhelming. Decisions feel heavy when your financial future rests on what you do right now. SECU Financial Partners consultants are here to lighten the load and bring experience, care, and compassion to every step of the process.
Here's what you can expect as you get started.
Consultation. First, contact us for a no-obligation chat with a

SECU Financial Partners

consultant.
Analysis. Let's evaluate your needs, goals, and risk tolerance, then develop an investment plan. If you prefer a digital self-serve option, we can help set up your plan and show you how to manage it.
Solutions. Receive your detailed plan and personal recommendations for investment products that align with your financial goals and life stage.
Action. Your plan is implemented. We'll track progress, monitor performance, and address for your changing needs.
---
Ready to Take the First Step?
A SECU Financial Partners consultant can answer your questions and help you begin the goals-based financial planning process.
Contact Us Today
Check the background of this investment professional on